It's Halloween and I'm losing my mind.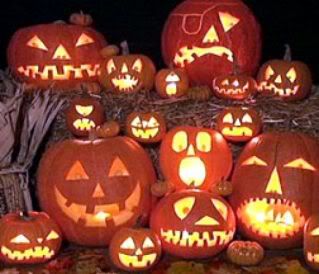 I'm not kidding.
Well. It isn't Halloween quite yet. There are about twenty four hours to go, but as the time draws closer, the decibel level of every word my kids speak goes up. Their attention spans shrink. My nerve endings become hyper-sensitive. My patience dwindles at an alarming rate. And I'm not even the primary parent! I cannot understand how my husband keeps his cool as well as he does.
I would be stark, raving lunatic mad by now. In fact, I might be...
All I can be certain of this minute is that I am desperately glad I have to work all day tomorrow. I have no idea how my poor man is going to get through the day with his sanity intact and both kids complete with all their limbs.
This kind of situation is why I write fiction: No kids, no dirty laundry (unless there's a really good reason to have a scene in a laundry mat) no bathrooms need scrubbing. In fact, my characters don't even use bathrooms, unless they need to puke due to a migraine or hangover (or both). Not even very many dirty dishes, unless ambiance calls for a scattering of empty take away containers. (I do write gay romance, after all. Not all gay guys cook.)
Is this a sanitized version of reality? Hells, yes. Do I feel bad about it? Well. No. If we all wanted to read about the insanity of our every day, fiction would be irrelevant. So in order to make it work, we write things both larger and smaller than life. We distill the act of living down to its bare essentials and expand on the emotions exponentially.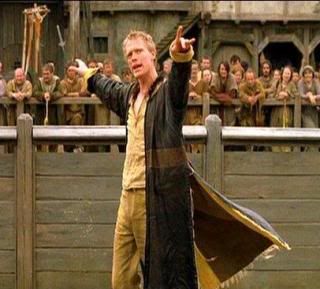 One of my very favorite quotes of all movidome is uttered by Paul Bettany when he plays Chaucer in
A Knight's Tale.
When Will accuses him of lying, he spreads his arms wide and cries
"I'm a writer! I give the truth...scope!"
So right. Someone once said something along the lines of writers being the best liars. After all, we make a living out of stretching, bending, and otherwise torturing the truth to within an inch of bending reality back on itself. And then sell it. There was a time some little part of me thought I should feel bad about that. Then the rent came due, the girl needed ballet pointe shoes and the boy wanted breakfast. And second breakfast. And elvenses. And lunch. And Tea...
You see? Life doesn't end or stop or give us a break. That's what fiction is for, and we all need it: a window that shows reality as it's stretched-out, backwards-bent, crazy truth that finally makes some sort of sense.
"I'll be here all week."
(That's Chaucer again)
If you want to find more about me, come check out my website:
www.jaime-samms.net
, my blog:
http://dontkickmycane.livejournal.com/
or look for me on FaceBook